Have you ever tasted a new hot sauce while traveling or at a restaurant and just had to have more? Many people that dive into new worlds of flavours arrive there by accident, but once you're there, you simply can't get enough. Explore your new favorite flavour profile when you shop European Flavour Factory today. We take the unique tastes of Germany, Turkey, France, and the Caribbean and bring them straight to beautiful British Columbia, Alberta, and Ontario.
HOW OUR HOMEMADE HOT SAUCES ARE MADE
We use extreme heat with some of our recipes, but we do it in proportion so you can experience those unique bold flavours without the pain associated with full potency. The world of pepper heat is fascinating, and we enjoy the process of creating palatable homemade hot sauce creations for our customers. Our hot sauces can burn your mouth or allow you to do a challenge for endurance. It all depends on which one you choose! You will discover that our flavours are not about spice challenges or adding heat for pain, though; we're about the design of the bottle or the region it is inspired by to add heat and flavour to your food for a truly unique flavour profile.
Locally made in Vancouver, the hot sauces from European Flavour Factory have been reported as bold, addictive, delicious, creative, and a culinary world trip in one. If you want to support a local hot sauce company that puts creative energy into each recipe and design, order some of our latest recipes and tell your friends. We sell out flavourful hot sauces by the bottle or wholesale for every customer's convenience and consumption. Creating our interesting and bold red hot sauce flavours that can please the most sensitive palate and excite bold ones alike is our honour and specialty. Hot sauces like ours take culinary skill and practice. We have enjoyed the process of trying different flavours and coming up with the best hot sauces that are flavour-forward just for customers like you.
We have traveled the globe to bring varied hot sauce profiles to our recipes and are pleased every time we nail down a new one to share. We bring the heat and flavour without adding vinegar or gluten to our sauces. The bold and spicy flavours are addictive to try, and you will want to sample them all. European Flavour Factory has been able to balance the heat and other hot sauce flavour profiles in a way that even those who do not care for "spicy" tastes still enjoy!
Try our hot sauces on meat, seafood, and more. Keep up with us for recipes, ideas, and resources. Let us know your hot sauce stories! Shop our online Canadian hot sauce store, or find us locally. Give your mouth a vacation, and shop European Flavour Factory today!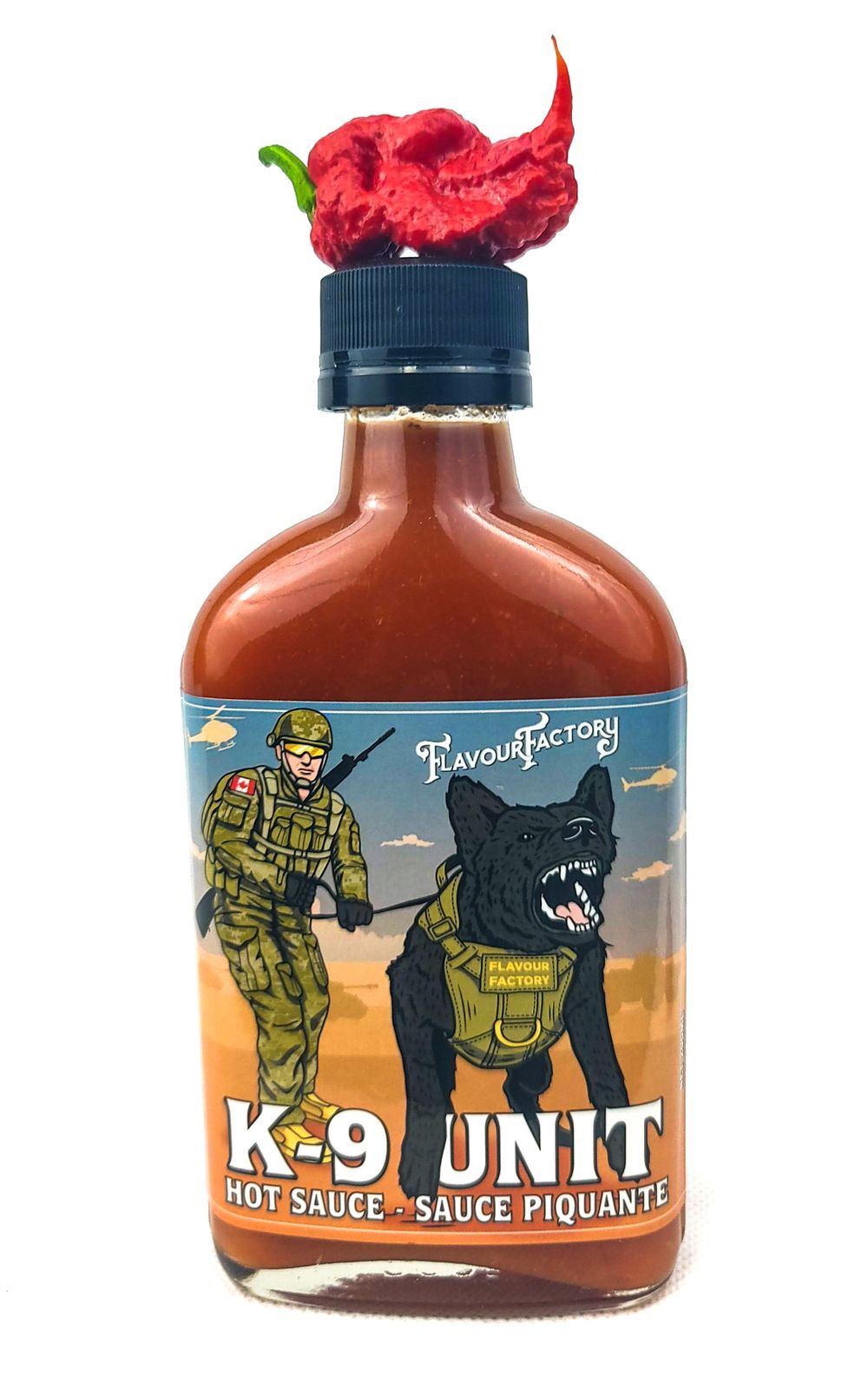 HOW HOT IS HOT?
There is an interesting phenomenon going on in the world to see who can create the hottest pepper. This is not a subjective competition; it is precise and measured by exact science. Occasionally, the winner will change as a grower discovers a new way to come up with a hotter pepper than the ones currently available. Right now, the official achievement of the hottest pepper in the world goes to Smokin Ed Currie with his Carolina Reaper. This pepper has a Scoville heat unit of 2,200,000 SHU.
To put that into perspective, a jalapeño ranks at only 2,500–8,000. This pepper is said to be dangerous to eat whole, although some people have done it. Lucky for you, we have mastered adding this magnificent pepper to our hot sauces and homegrown them for a unique, blow-your-buds-off hot sauce experience that takes out the pain and adds flavour.
European Flavour Factory Ltd. Is Your Online Resource If You Want to Buy Hot Sauce As Gifts.
Are you looking to buy hot sauce for quality and unique gifts for your family and loved ones who are bold when it comes to culinary exploits? We have a variety of Canadian hot sauce flavor profiles to entice and excite those on your shopping list or to literally spice up your own kitchen. We are referred to as the flavor factory because we bring out the best in flavor and regional spices from around the world. If you want to buy hot sauce just to burn your mouth or do a challenge of endurance, then you will discover that our best hot sauce flavor profiles are not about spice challenges or pain. Our flavor profiles are about the designed use of that bottle or the region it is inspired by. The bold and spicy flavors are almost addictive to try, and many people want to try all of our hot sauce flavours, but they are not considered painful by most.
​
The European Flavour Factory has been able to balance the heat and other hot sauce flavor profiles in a way that even those who do not care for "spicy" tastes still enjoy many of our homemade hot sauce offerings. Click on any of our bottles (awesome design and names right?!). And you can see a list of general ingredients that make the hot pepper sauce flavor profile. Each pepper from each different region will bring out a completely different flavor profile. It is not just about the level of heat. Some peppers have a naturally sweet essence and others simply bite you. No two peppers are exactly the same, and we challenge you to discover your favorite pepper and flavor combinations. Sometimes the most unexpected mixtures can bring out a nearly addictive dipping sauce that our clients can't seem to get enough of.
Are You Looking For Quality Hot Sauce For Seafood?
European Flavour Factory Ltd. carries a variety of hot sauce flavors. If you are looking for European hot sauce with flair, then browse our inventory of Canadian hot sauces today. We offer individual hot sauce bottles or gift sets. You will notice that our selection is versatile and can be used as marinades, dipping sauces, seasonings, and of course, condiments with your favorite meals. Although some of our hot sauces do indeed bring the heat, we have the flavor profile as the main priority with the spice and heat as a side effect. We have traveled the globe to bring veritable hot sauce profiles to our recipes, and we are pleased each time a new customer tries our hot pepper sauce and wants it on all their meals thereafter.
​
Are you looking for the right hot sauce for seafood? Seafood lends itself to spicy flavors on many levels, from the mildest cocktail sauce for shrimp with just a hint of spice from horseradish to bold chili sauce on crabs and fried seafood to searing spice boils and so much more. If you are looking for the perfect dipping sauce for your seafood dishes or perhaps a flavor-packed marinade, choose from one of our red hot sauce options, and see what you think about bringing the flavor-packed heat to your next seafood dinner. We are always interested in new recipes using our hot sauces and seafood or other types of food so share pictures and directions on our social media pages to make us want to try your method of cooking with our best hot sauces. We will continue to try new spices from different places and enjoy the worldwide competition that is taking place for "hottest pepper planted." Then we will try to turn those flavors into palatable spice sauces for all of you to enjoy.
European Flavour Factory Ltd. Has Your BBQ To Stand Out At The Grill.
BBQ sauce varieties range from sweet to spicy, smokey to oriental. If you are craving some grilled food but want variety, you can find it in our hot BBQ sauce selection. We have sweet, smokey, fruity, and bold flavors that go great smothered on grilled chicken, ribs, and pork chops. We have even tried our spices on corn on the cob and grilled potatoes with satisfying results. Do not be afraid to try new things, a little bit of hot BBQ sauce can kick up the flavor profile of your vegetables and a lot can turn them into alternative meat products. Whatever your goal at the BBQ, we have the hot BBQ sauce for you. We look forward to seeing your pictures of your back yard BBQ recipes with our quality hot BBQ sauces.
​
Are you ready to evolve to hot barbecue sauce? Smokey, sweet, even bold, and tangy are all within the normal range for barbecue sauces but did you know you can get your fill of spice akin to a plate of hot wings with a quality hot barbecue sauce? When done correctly, and we strive to provide the best, a hot barbecue sauce is just as addictive as its sweet counterpart. Try our variety of BBQ Sauce options that range from quality hot barbecue sauces to sweet and smokey. We have many flavor profiles that seem to be boldened by the smoke and heat of the grill. Our hot BBQ sauces work great for dipping and evolve when the flames of a good fire hit them. You can even mix some of our sweeter hot pepper sauces with savory sauces to make your own grill side recipe. Let us know how it goes; we love hearing about our customers' culinary exploits.
European Flavour Factory Ltd. Is Your Local Made Hot Sauce If You Have Been Searching For Hot Sauce Vancouver.
Do you want a locally made hot sauce from a Vancouver company that is experienced in bringing both heat and balance for a culinary masterpiece? We have tried spices and hot sauces from different parts of the world, and we take pride in bringing the flavor as well as the heat. Try one of our signature spices to find out how much your hot sauce experience can be enlivened when the other flavors are the priority and the spice is an almost addictive side effect.
European Flavour Factory located in beautiful Vancouver makes bold and delicious, local hot sauce for your enjoyment. Our homemade hot sauces are packed with creativity and ingenuity that you will savor and love. Order our Canadian hot sauces, and tell your friends. These hot pepper sauces make great gifts and are available by the bottle or in sets. Stock up on your favorite hot sauces and hot BBQ sauces, so you can begin to create delightful meals in your kitchen. With so many options of hot sauces to choose from, which to order may be the problem! Order yours today!
Let us know your hot sauce stories. Have you won the hottest pepper eating contest in your hometown, and enjoy trying different hot sauces from local and global sources? Or are you new into these bold flavors but discovered that our homemade hot sauces are actually tasty despite your typical choices? What do you put hot sauces on? Do you have interesting hot source recipes? We want to know, so we can continue to create the tastiest flavors for your needs.
European Flavour Factory Ltd. Has All The Varieties and Strengths For Your Favorite Flavor Sauce.
It's healthy and fun to try new things, especially when traveling. Have you ever been out and about, tried some new local cuisine, and then tried to recreate the flavor in your own home? Many of our favorite foods come from just trying new things.
We carry a variety of flavor hot sauce options to help you find that exact flavor profile you have been trying to replicate. Our smokey hot sauce is the perfect condiment when you are desiring the favors of a summer BBQ but do not have the ability or desire to fire up the grill. You can replicate those hot sauce tastes without leaving your kitchen if you wish. Or you can add our smokey hot sauce to your fired up grill for flavors to the max. You are the boss when it comes to your recipes; we are just happy to provide the bold flavors of our delightful hot sauces.
Many people try to come up with the hottest pepper in the world, and thus the hottest hot sauce in the world. While we here at European Flavour Factory in Chilliwack love to bring the heat, making hot sauce that is full of flavor is more important to us. ​From our K-9 Hot Sauce to our Sauce-Squatch Hot Sauce, we are confident you will find the hot sauce for you. Browse our homemade hot sauces, and order today!