European Flavour Factory
Special Information page for Wholesale Clients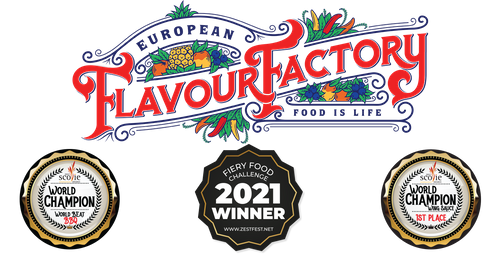 What makes EFF Sauces Different? We want to revolutionize the Hot Sauce industry with our delicious non-vinegar-based sauces! We dare to be different with our bottle shapes, labels, and unique flavours, there is something for everyone. We produce exceptional hot sauces that will give your senses the ultimate flavour trip. When you taste our hot sauces and BBQ sauces, you will feel a climactic heat rising within, sending your gustatory cells into a spin. Unlike most hot sauces, our sauces omit the vinegar base.
Why is Non-Vinegar Based Good? In short: It tastes better! But I will elaborate on that a bit more. We've omitted the vinegar base, doing so allows us to create amazing flavours without having to add extracts. With a vinegar base you can lose some spice, many companies use capsaicin extract to add the burn back in, this leads to mouth, tongue and finger burning sensations, which are not always pleasant. When this happens you can only feel burning and no more flavours. Without having to battle with strong vinegar and extracts our sauces will heat you up at the back of your mouth leaving the front alone so you can enjoy your meal with natural heat.
 HOT SAUCES
We have a wide range of Hot Sauce Flavours and heat levels, this guarantees there is something for everyone. These sauces can all be used in many creative ways, some are great as a salad dressing base, others as pasta sauce, and some even in cocktails. Without the vinegar taste, there is a great variety of ways to have fun with our sauces

Caribbean Affair

Hot Pursuit

K-9 Unit

K-9 Bite

Life Support

Sauce-Aggedon

Sauce-Squatch
BBQ SAUCES
We've made some unique twists on our BBQ Sauces. These are not your average ketchup flavoured sauces, they are a culinary experience that is guaranteed to be a crowd-pleaser at your next BBQ party! The flavours incorporated in these sauces stand out, just like your favorite BBQ Should.

Crossfire

Shady Business

Wild Ride