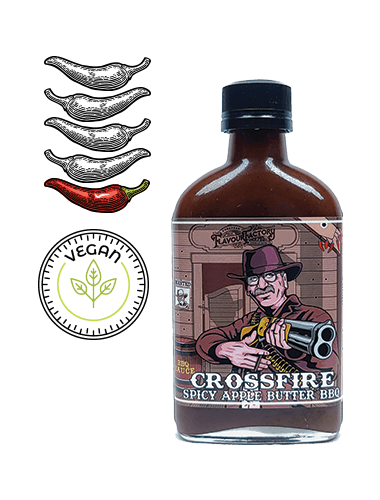 Crossfire Spicy Apple Butter BBQ
This rich, incredible, one-of-a-kind, spicy BBQ sauce, made with real apples will have you coming back for more. Don't believe me, just ask Don what he'll do for a bottle. He even shot up a whole town for it!
SWEET HOMEMADE APPLE BUTTER WITH NATURAL SMOKE WITH A LITTLE TWIST AT THE END.(LIKE EVERY GOOD MOVIE)
THE PERFECT BBQ SAUCE FOR EVERY SEASON. NOT TOO SWEET, JUST RIGHT!
Contains: Soy, Wheat, Sulphites.
VEGAN
Apples, Tomatoes, Brown Sugar, Water, Apple Cider Vinegar, Soy Sauce, Salt, Pepper, Chipotle Powder, Potassium Sorbate.