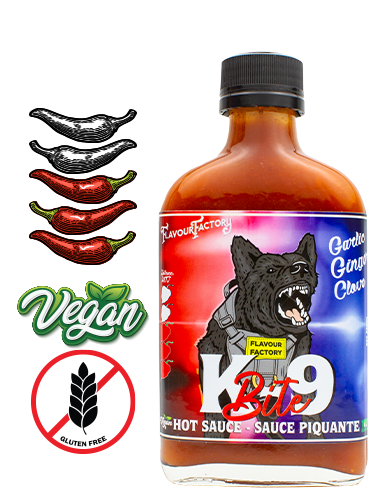 K-9 Bite Hot Sauce
The angrier brother of the K-9 Unit, Same flavor profile so a Garlic, Ginger, Clove with an extra little kick at the end. Watch the flames rising from the back of your mouth while the flavors keep you at ease.
GINGER, GARLIC, CLOVER, EXTRA CAROLINA REAPER
Dipping or Marinade pairs well with every meal.
MEATS: Everything, really this is good with everything!
VEGAN & GLUTEN FREE
Tomatoes (Crushed Tomatoes, Water, Salt, Citric Acid), Water, Sweet Bell Pepper, Onion, Apple Cider Vinegar, Salt, Sugar, Garlic Powder, Ginger Powder, Rosemary, Cloves, Carolina Reaper Powder, Potassium Sorbate.